Publié le par Joëlle Vétillard
In March, a few of us went to the International Patchwork Show in Sitgès near Barcelona.
We fell under the charm of this small town and especially of its 49 benches along the seafront.
We were stunned by the amazing two-coloured ceramic patterns designed on the double benches (the oldest ones)
situated near the town center, and they inspired all the patch-lovers present.
You are all welcome to take up the challenge !!!!
Please find attached : the rules and photos.
Rules for the Sitgès benches.
Choose a bench. One bench per person or group of people.
The size of a block is : 7,5 cm x 7,5 cm, which is half the size of the ceramic. squares (15 cm x 15 cm )
The final work must measure a minimum of 120 cm wide x 22,5 cm high. There is no maximum size.
Comply to the number of blocks per row and to the number of lines :
i.e. width 16 blocks
height 3 blocks
Each block must follow the off-white colour pattern and its placement when putting together so as to
follow the pattern on the bench.
For the other colour, choose any colour and keep to it : blue, red, orange, green.
Different shades of that colour may be used.
Materials used for the off-white and the colour, must be plain, or with relief, no patterns.
Up to now, I have given you many rules, but for the rest you are free to use :
- traditional patchwork, contemporary, or textile art,
- any of the flat, 3 dimensional or 3 layered technique,
- quilt, hand embroider, machine, glue, burn, felt,
- add a border or not.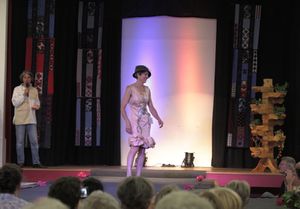 All works are accepted as long as they comply to the rules.
They will be exposed at the "5è Biennale de St. Cyprien", the first week end of July 2017, for the fashion show,
and will be insured by us for the duration of the show.
Free participation, there is nothing to win win apart from the pleasure of sharing our works.
All postal fees are to be paid by the participants.
Please apply before September 2016. The works must arrive before end of May 2017.
For any further enquiries and applications please contace : JOELLE VETILLARD :
jvpointetpatch@hotmail.fr
Merci à Françoise pour la traduction.